If you believe good things are happening in your classroom, do you have an obligation to share them? That's a question you may not have considered before.
Some teachers are constantly sharing the good things happening in their classrooms. They share in conversations, through email, on social media, in the local newspaper, and just about any other way possible. The make learning visible and allow others to see the work students are producing and the ideas they are trying as a teacher.
Others are quietly doing great things, but they don't really share much with colleagues or anyone else. They might be a bit more reserved, or feel like they are self-promoting. Or maybe they're not confident what they're doing is worth sharing. For one reason or another, they don't choose to share much about what's happening in their classroom.
But it is possible to move past personal preferences or tendencies. What is best for students? I believe sharing positive things is an important part of an educator's professional practice. I believe it's essential and not just an add-on. Isolation is the enemy of improvement. To provide the best learning environment for students, educators need to share with one another. So even if it doesn't come naturally for you, it might be something for you to work on doing more often.
8 Ways Sharing Is Essential For Educators
1. It inspires new ideas. When you share something from your classroom with another educator, it might spark a conversation that leads to something new for their classroom. Ideas always build on other ideas, and they get better as we get more input and various perspectives. It's the power of collaboration.
2. It creates a culture of learning and continuous improvement. What you choose to share with others reveals a lot about what you value. By talking about student learning and how to make it better, you are helping support a culture of improvement and keeping the focus on the bottom line, better learning for students.
3. It builds self-efficacy. Sharing good things that are happening is encouraging to self and others. We all want to feel like we have the ability to do our jobs well and make a difference. When you focus on the positive, it gives you a greater sense you can impact your work for the better.
4. Success breeds success. When something is working well, share it.
It can give others the confidence and inspiration to replicate what you are doing or build on it.
5. Sharing pushes your own thinking. When you share with others, you inherently think differently about the idea. It causes you to reflect and consider the audience and what might be important to them. Reflection is extremely important for taking your thinking deeper. We tend to reflect more on things that we are thinking of sharing with others.
6. Taking risks can encourage others to take risks. When you try a new idea in your classroom or do something innovative, there is an element of risk. By sharing this experience with others, they might gain the confidence or inspiration to step out of their comfort zone to try something new.
7.
You might enjoy your work more. I think when teachers share the positive things happening in their classrooms, they feel validated for what they do. Everyone needs to feel noticed and appreciated in their work. It's more likely for this to happen if you reveal some of the neat things that are happening in your classroom.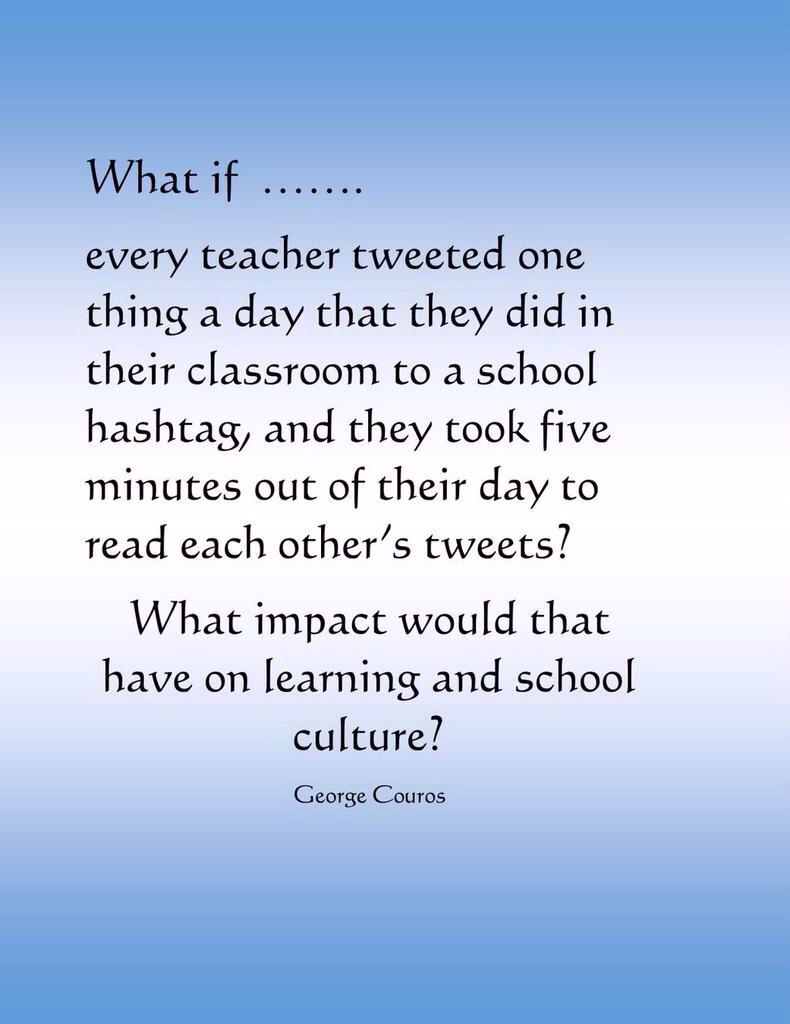 8. It's too good not to share. When students do something amazing, it's just a shame for it not to be shared outside the classroom. So many things get noticed in our culture that aren't positive. We need to do our part to amplify the best things in the classroom.
Question: How are you sharing the great things happening in your classroom? Leave a comment below or share on Twitter or Facebook.
Resource:
The Innovator's Mindset
by
George Couros